House Cleanout – Estate Cleanout Services
OnE Call. OnE REQUEST. WE're On OUR Way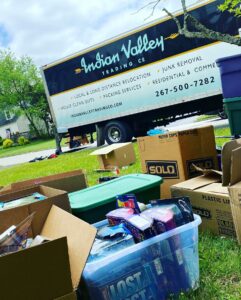 Our House Cleanout Team specializes in Helping Families with the often difficult task of cleaning out or downsizing a loved ones home or estate.
Our team will work with you to identify what items you wish to keep and box them up for you. Any items that you do not wish to take, we will responsibly Donate, Recycle and Dispose of, saving you the time, money and the planet by repurposing unwanted items.
Having worked in the community as a first responders, we understand and have the patience to help you make the right decisions.
I highly recommend Dan and his crew! They packed and moved us over 2 days over a very hot and humid holiday weekend. It was brutal outside and they worked quickly and efficiently with no complaints. The way they broke it out over two days was also great for our family and I thought their estimate was much more realistic than another one I got. I'd definitely suggest talking to Dan before selecting your moving company!

Celia Sucheski Astheimer

Request an Estimate for Your House Cleanout Service
Fill out our form below and we will respond as quickly as possible.
How A House Cleanout Works
We will work with you to make sure the process is as smooth as possible.
Get an Estimate
We will come out to your location and walk through your project to give you an honest and fair estimate.  
Schedule The ESTATE or House CLEANOUT
We will work with you on the most convenient for your family to schedule our team and line up any resources needed.
CLEANOUT DAY
Our team will complete the clean out like we were never there. We take the extra time not only to carefully remove items, but sweep up afterwards.
Satisfaction Guaranteed!
We love feedback and we strive to take care of all of our clients needs.

Great family company to deal with. Very reasonable. Helped clean out my Aunt's home of 60 years. Wish I knew they did moves too besides clean outs and junk removal. They offer organizational assistance as well as relocations. They also cover more than just PA. Highly recommended!

Indian Valley Trading did a magnificent job on clearing out the MASSIVE amount of "stuff" in our home after my husband passed on. Several of the more interesting photos on this site are our place. They were willing to work with my time frames and patient with the emotional distress of the situation. I loved that many of our belongings were recycled or donated to where they could be useful.I would absolutely recommend them to assist with any situation.

Amazing attention to detail, our move was super easy and their crew was great to work with. They went above and beyond to make sure some of our family heirloom items were treated with care. I can't say enough to recommend them to others! Great work!