Upper Perkiomen Valley Moving & Cleanout Services
On Time. On Budget. On It's Way
Tell Us About Your Project
Fill out our form below and we will respond as quickly as possible to get additional details about your project.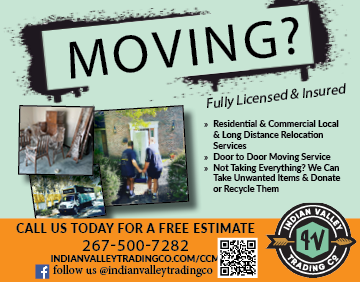 What We Offer
Let our experienced team take you places. Door to Door unless you want us to store, we will have you moved On Time, On Budget and On It's Way!

Packaging & Unpacking
Need Help Packing Up? Our team can carefully pack, wrap and protect your items for transport to your new home.

Local Moves
Right Sized Clean Trucks. We will move you from door to door. 

Long Distance Moves
We take pride in our long distance moving teams. We will load your items into our truck and drive straight to your new home. No More Waiting!

Commercial Services
Office Clean Outs, Junk Removal and Relocation services for your business.

Secure Storage
Need to Move Fast? We can store your items securely until you are ready to move. 

Cleanouts & Junk Removal
Need Some Space? Down Sizing? Our Team Will Responsibly Remove, Donate, & Recycle your unwanted items.
How It Works
Let us take the stress out of your move.
Get an Estimate
Send us your information and we will respond quickly to collect your move details
Plan Your Move
We can work with you and remove any unwanted items and help you prepare for your move date.
Schedule Your Move
Our team will show up ready to move your commercial location to its new home on your schedule. 
Satisfaction Guaranteed!
We love feedback and we strive to take care of all of our clients needs.

Great family company to deal with. Very reasonable. Helped clean out my Aunt's home of 60 years. Wish I knew they did moves too besides clean outs and junk removal. They offer organizational assistance as well as relocations. They also cover more than just PA. Highly recommended!

George Cizauskas

September 10, 2020