Upper Perkiomen Valley Moving & Cleanout Services
On Time. On Budget. On It's Way
Tell Us About Your Project
Fill out our form below and we will respond as quickly as possible to get additional details about your project.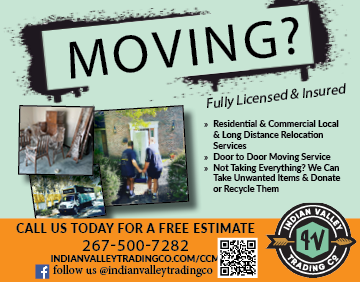 What We Offer
Let our experienced team take you places. Door to Door unless you want us to store, we will have you moved On Time, On Budget and On It's Way!

Packaging & Unpacking
Need Help Packing Up? Our team can carefully pack, wrap and protect your items for transport to your new home.

Local Moves
Right Sized Clean Trucks. We will move you from door to door. 

Long Distance Moves
We take pride in our long distance moving teams. We will load your items into our truck and drive straight to your new home. No More Waiting!

Commercial Services
Office Clean Outs, Junk Removal and Relocation services for your business.

Secure Storage
Need to Move Fast? We can store your items securely until you are ready to move. 

Cleanouts & Junk Removal
Need Some Space? Down Sizing? Our Team Will Responsibly Remove, Donate, & Recycle your unwanted items.
How It Works
Let us take the stress out of your move.
Get an Estimate
Send us your information and we will respond quickly to collect your move details
Plan Your Move
We can work with you and remove any unwanted items and help you prepare for your move date.
Schedule Your Move
Our team will show up ready to move your commercial location to its new home on your schedule. 
Satisfaction Guaranteed!
We love feedback and we strive to take care of all of our clients needs.

This is my 2nd review of Indian Valley Trading Company. Dan initially helped me with some emergency 1:30am junk removal awhile back, so I knew I'd use him again for junk removal as we prepared to relocate to North Dakota. When his team mentioned they do cross-country relocation, it made sense to use Indian Valley Trading Company for our long distance move. You will not find a more professional team out there. They took extra measures with our most fragile items that probably would have been destroyed by other moving companies. They provided a door-to-door service and made sure everything was put exactly where it needed to be put once they arrived in North Dakota (some went to an apartment, some went to a storage unit)...and they even assembled furniture that needed reassembly upon arrival in North Dakota. I can't say enough good things. Avoid big companies who often provide nightmare experiences and go with IVTC. As an added bonus, their quote to move us across the country was extremely accurate- no hidden costs or fees. Thank you, IVTC!!!

Andrea Vizzi